PC Game Pass en Junio 2022 - Lista con todos los juegos de Windows disponibles
Todos los títulos disponibles en el Netflix de los videojuegos.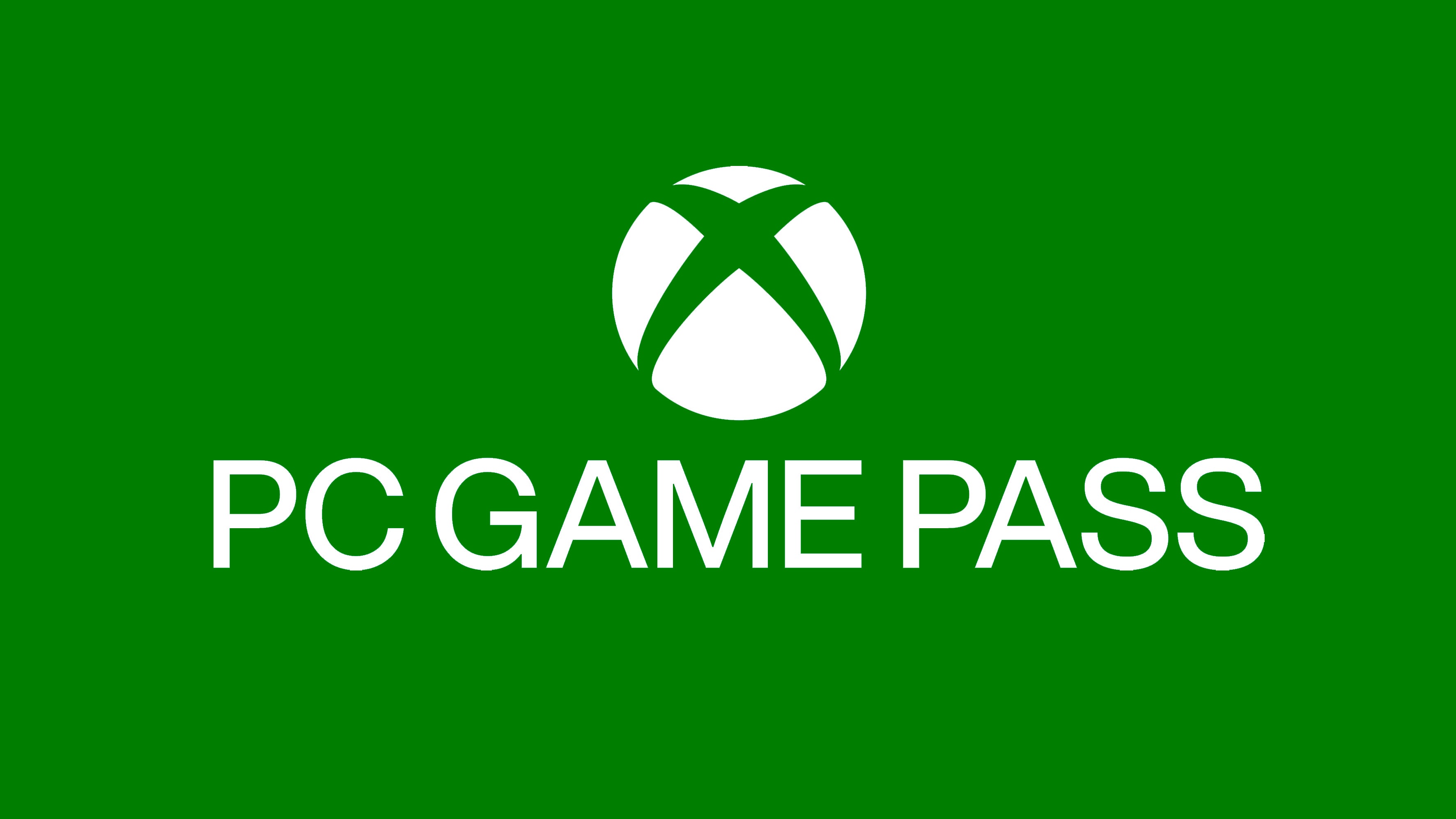 PC Game Pass es un servicio de Microsoft al estilo de Netflix que ofrece acceso a más de 100 juegos para ordenadores Windows por una cuota mensual de entre 9,99€ y 12,99€, según el plan que elijas.
Hay una buena cantidad de juegos de primer nivel disponibles, incluyendo Halo Infinite, Forza Horizon 5, la saga Gears of War, varios clásicos del catálogo de Bethesda y mucho más.
Microsoft también incluirá en el servicio y de forma permanente todos los juegos exclusivos publicados bajo su sello, entre los que se encuentran futuros lanzamientos como Hellblade 2 o Starfield.
La compañía ofrece también una suscripción llamada Xbox Game Pass para los usuarios de consolas Xbox. En esta guía solo incluimos los títulos de PC, pero puedes consultar también nuestra lista completa de juegos de Xbox Game Pass.
En esta página encontrarás:
¿Qué juegos se añadirán en Junio de 2022 a PC Game Pass?
Esta es la lista confirmada de juegos que llegan a PC Game Pass en ordenadores Windows en Junio de 2022:
1 de junio
For Honor: Marching Fire Edition
2 de junio
Ninja Gaiden: Master Collection
Assassin's Creed Origins
7 de junio
Chorus
Disc Room
Spacelines from the Far Out
16 de junio
Teenage Mutant Ninja Turtles: Shredder's Revenge
17 de junio
21 de junio
Total War: Three Kingdoms
23 de junio
1 de julio
¿Qué juegos abandonarán en Junio de 2022 el PC Game Pass?
Estos son los juegos que abandonarán próximamente el Game Pass:
Abandonarán el servicio el 15 de junio
Darkest Dungeon
Dungeons & Dragons: Dark Alliance
Greedfall
Limbo
Worms Rumble
Abandonarán el servicio el 30 de junio
FIFA 20
Jurassic World Evolution
Last Stop
MotoGP 20
Cómo descargar los juegos de PC Game Pass
Abre la aplicación de Xbox, que podrás encontrar desde el menú Inicio. Te recibirá una pantalla como esta: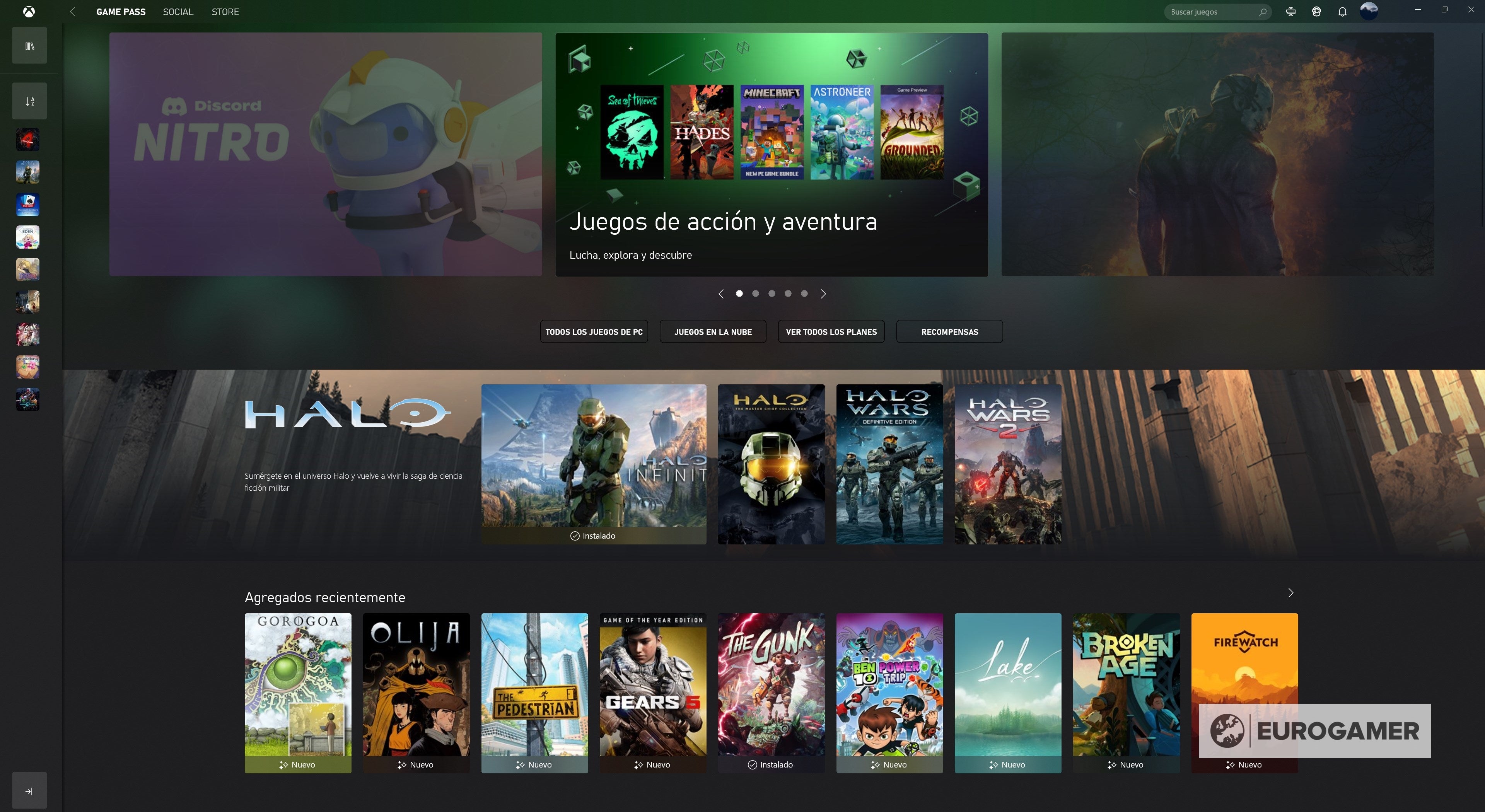 Desde aquí puedes pulsar en la ficha de cualquier juego y descargarlo, pero si te interesa comprobar la lista completa, pulsa en "Todos los Juegos para PC" y verás esta pantalla.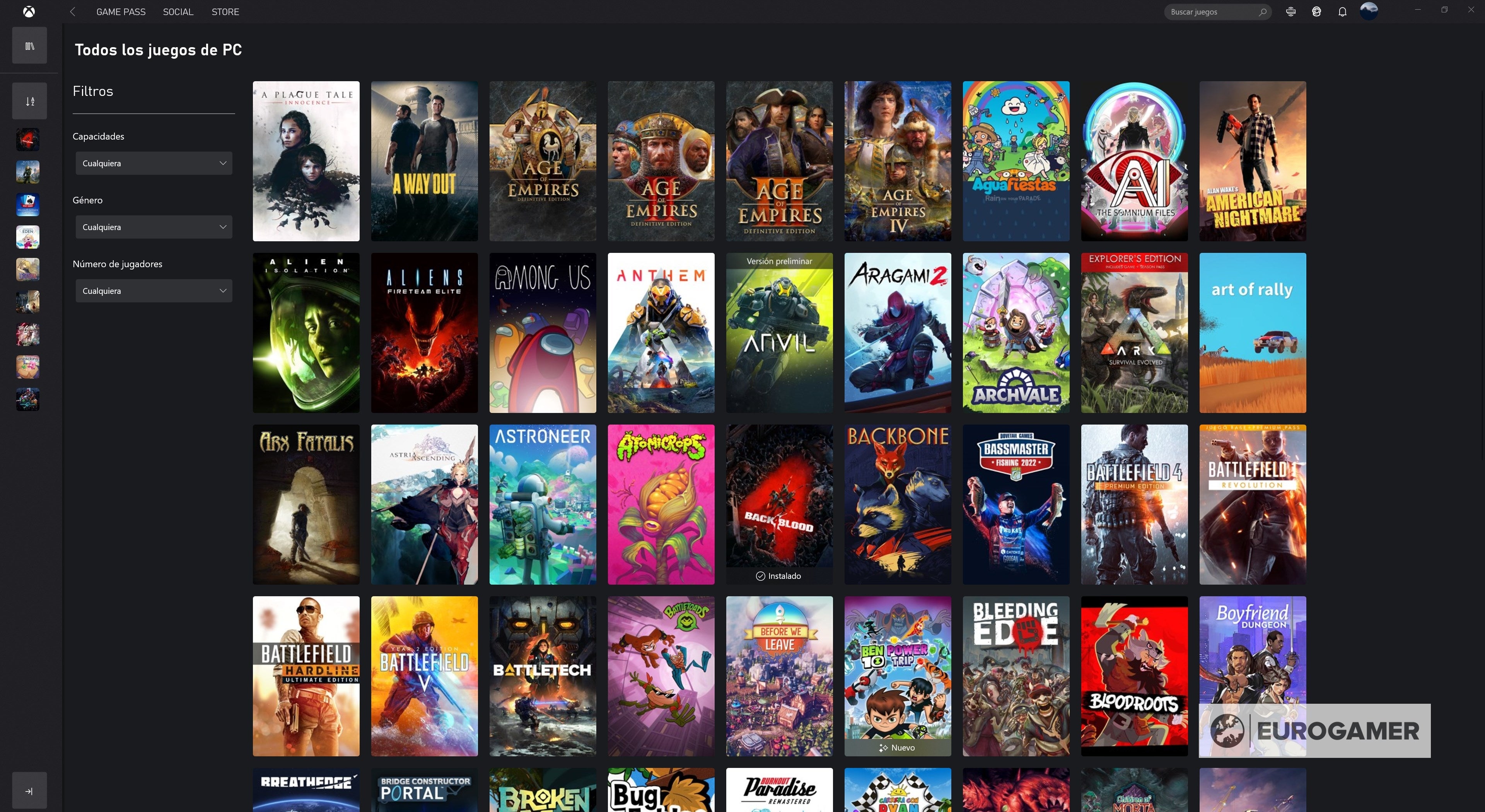 Pulsa en cualquiera de los iconos y verás una pantalla similar a esta. Solo tienes que hacer clic en "Instalar".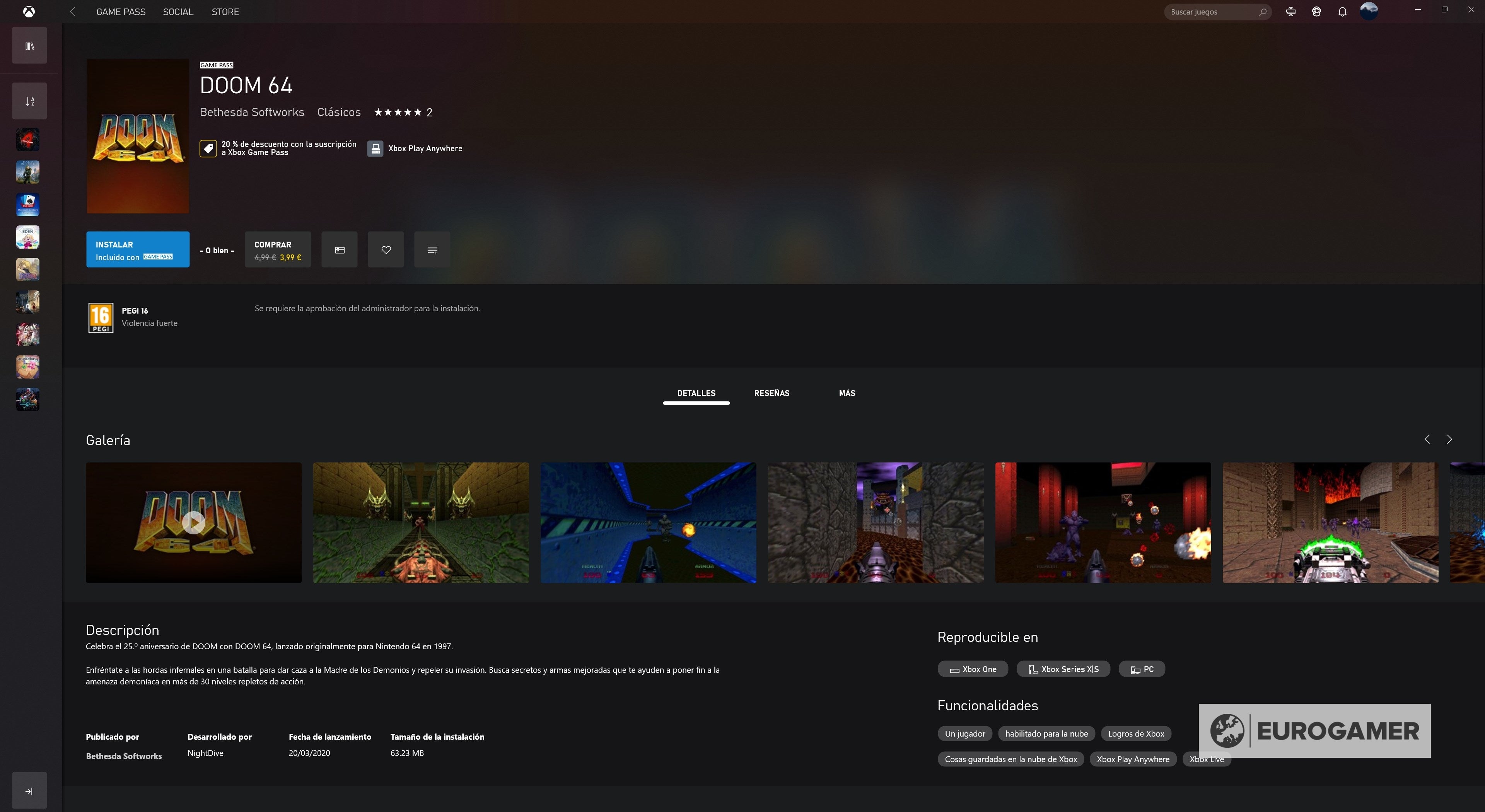 Una vez te descargues un juego, lo encontrarás en la barra de la izquierda en la aplicación.
Lista de todos los juegos de Xbox Game Pass
A continuación tenéis la lista completa con todos los juegos disponibles en el PC Game Pass:
7 Days to Die
A Plague Tale: Innocence
A Way Out
Age of Empires: Definitive Edition
Age of Empires II: Definitive Edition
Age of Empires IV
AI: The Somnium Files
Alan Wake's American Nightmare
Alien Isolation
Aliens: Fireteam Elite
Among Us
Anthem
ANVIL
Aragami 2
Archvale
Ark: Ultimate Survivor Edition
art of rally
Arx Fatalis
Assassin's Creed Origins
Assetto Corsa
Astria Ascending
Astroneer
Atomicrops
Back 4 Blood
Backbone
Bassmaster: Fishing 2022
Battlefield 1
Battlefield 3
Battlefield 4
Battlefield 5
Battlefield Hardline
Battletoads
Before We Leave
Ben 10: Power Trip
Besiege
Bleeding Edge
Bloodroots
Boyfriend Dungeon
Breathedge
Bridge Constructor Portal
Broken Age
Bug Fables: The Everlasting Sapling
Bugsnax
Burnout Paradise
Carrera con Ryan
Carrion
Children of Morta
Chinatown Detective Agency
Chorus
Cities: Skylines
Citizen Sleeper
ClusterTruck
Command & Conquer: Remastered
Conan Exiles
Crackdown 3
Craftopia
Cricket 22
Cris Tales
Crown Trick
Crusader Kings 3
Crysis
Crysis 2
Crysis 3
Curse of the Dead Gods
Dandy Ace
Danganronpa 2: Goodbye Despair Anniversary Edition
Day of the Tentacle Remastered
Dead by Daylight
Dead Cells
Dead Space
Dead Space 2
Dead Space 3
Death's Door
Deeeer Simulator
Deep Rock Galactic
Descenders
Destroy All Humans
Dicey Dungeons
Dirt 5
Disc Room
Dishonored Definitive Edition
Dishonored 2
Dishonored: La Muerte del Forastero
Disneyland Adventures
Dodgeball Academia
Donut County
Doom (1993)
Doom 2
Doom 3
Doom 64
Doom Eternal
Dragon Age: Origins
Dragon Age 2
Dragon Age: Inquisition
Dragon Quest Builders 2
Dragon Quest XI S: Echoes of an Elusive Age - Definitive Edition
Dreamscaper
Dungeon Keeper
Dungeon Keeper 2
EA Sports FIFA 20
Echo Generation
Edge of Eternity
Eiyuden Chronicle: Rising
Embr
Empire of Sin
Europa Universalis IV
Everspace 2
Evil Genius 2
Exo One
Fae Tactics
Fallout
Fallout 2
Fallout 3
Fallout 4
Fallout 76
Fallout Tactics
Fallout: New Vegas
Farming Simulator 22
Fe
FIFA 21
Final Fantasy XIII
Final Fantasy XIII-2
Firewatch
Floppy Knights
Flynn: Son of Crimson
Football Manager 2022
Football Manager 2022: Xbox Edition
Forager
For Honor: Marching Fire Edition
Forza Horizon 4
Forza Horizon 5
Frostpunk
Full Throttle Remastered
Gang Beasts
Gears of War: Ultimate Edition
Gears of War 4
Gears 5
Gears Tactics
Generation Zero
Genesis Noir
Goat Simulator
Going Under
Golf with Your Friends
Gorogoa
Grim Fandango Remastered
Grounded
Hades
Halo: The Master Chief Collection
Halo Reach
Halo Infinite
Halo Wars: Definite Edition
Halo Wars 2
Halo: Spartan Assault
Halo: Spartan Strike
Hardspace: Shipbreaker
Hearts of Iron IV
Hellblade: Senua's Sacrifice
Her Story
Hitman Trilogy
Hollow Knight
Human Fall Flat
Humankind
Hypnospace Outlaw
I Am Fish
Immortal Realms: Vampire Wars
Infernax
Injustice 2
Into the Pit
Iron Harvest 1943+
It Takes Two
Jade Empire: Special Edition
Jurassic World Evolution 2
Just Cause 4: Reloaded
Katamari Damacy Reroll
Kentucky Route Zero
Kill It With Fire
Killer Instinct: Definitive Edition
Kraken Academy
La Tierra Media: Sombras de Guerra
Lake
Last Stop
Lawn Mowing Simulator
Lemnis Gate
Lethal League
Library of Ruina
Life Is Strange: True Colors
Lightning Returns: Final Fantasy XIII
Little Withch in the Woods
Lonely Mountains: Downhill
Loot River
Los Sims 3: Starter Pack
Los Sims 4: Edición Fiesta Deluxe
Lost in Random
Lost Words: Beyond the Page
Lumines Remastered
Madden NFL 20
Madden NFL 21
Madden NFL 22
Maneater
Marvel's Avengers
Marvel's Guardians of the Galaxy
Mass Effect
Mass Effect 2
Mass Effect 3
Mass Effect Andromeda
Mass Effect Legendary Edition
MechWarrior 5: Mercenaries
Medal of Honor: Allied Assault - War Chest
Medal of Honor: Airborne
Medieval Dinasty
Microsoft Flight Simulator
Microsoft Solitaire Collection
Mighty Goose
Mind Scanners
Minecraft
Minecraft Dungeons
Mirror's Edge
Mirror's Edge Catalyst
Monster Sanctuary
Monster Train
Moonglow Bay
Moonlighter
Mortal Kombat 11
Mortal Shell
MotoGP 20
My Friend Pedro
My Time at Portia
Myst
NBA 2K22
Need for Speed
Need for Speed Heat
Need for Speed: Hot Pursuit Remastered
Need for Speed Payback
Need for Speed Rivals
Neon Abyss
Neoverse
Next Space Rebels
New Super Lucky's Tale
Ninja Gaiden: Master Collection
No Man's Sky
Nongünz: Doppelganger Edition
NORCO
Nuclear Throne
Octopath Traveler
Olija
Omno
Omori
One Piece Pirate Warriors 4
One Step from Eden
Ori and the Blind Forest
Ori and the Will of the Wisp
Outer Wilds
Outriders
Overcooked! 2
Pac-Man Museum+
Panzer Corps 2
Paradise Killer
Paw Patrol: Mighty Pups Save Adventure Bay!
Peggle
Peggle 2
Phoenix Point
Pikuniku
Pillars of Eternity
Pillars of Eternity 2: Deadfire - Ultimate Edition
Plantas contra Zombis
Plants vs Zombies Garden Warfare
Plants vs Zombies Garden Warfare 2
Plants vs Zombies: La Batalla de Neighborville
Populous
Populous 2
Power Rangers: Battle for the Grid
Prey
Prodeus
Project Wingman
Psychonauts
Psychonauts 2
Puperazzi
Quake
Quake 2
Quake 3 Arena
Rage 2
Rainbow Six Extraction
Rainbow Six Siege
Raji: An Ancient Epic
Recompile
Record of Lodoss War: Deedlit in Wonder Labyrinth
ReCore Definitive Edition
Research and Destroy
Ring of Pain
Rise of Nations
Rocket Arena
Rubber Bandits
Rush: A DisneyPixar Adventure
Sable
Scarlet Nexus
Sea of Solitude
Sea of Thieves
Second Extinction
Serious Sam 4
Shredders
Signs of the Sojourner
SimCity: Complete Edition
SimCity 2000
SimCity 4: Deluxe Edition
Skatebird
Skul: The Hero Slayer
Slay The Spire
Slime Rancher
Sniper Elite 5
SnowRunner
Solasta: Crown of the Magister
Spacelines from the Far Out
Space Warlord Organ Trading Simulator
Spelunky 2
Spiritfarer
Spore
Star Wars Battlefront
Star Wars Battlefront 2
Star Wars Jedi: Fallen Order
Star Wars: Squadrons
Starbound
Stardew Valley
Starmancer
State of Decay 2
Stellaris
Subnautica
Subnautica: Below Zero
Sunset Overdrive
Super Lucky's Tale
Super Mega Baseball 3
Superliminal
Supraland
Surgeon Simulator 2
Taiko no Tatsujin: The Drum Master
Tainted Grail: Conquest
Teenage Mutant Ninja Turtles: Shredder's Revenge
Tell Me Why
Telling Lies
Tetris Effect: Connected
The Anacrusis
The Artful Escape
The Ascent
The Bard's Tale: Remastered
The Bard's Tale: Trilogy
The Bard's Tale: IV
The Catch
The Dungeon of Naheulbeuk
The Elder Scrolls III: Morrowind
The Elder Scrolls IV: Oblivion
The Elder Scrolls V: Skyrim
The Evil Within
The Evil Within 2
The Dungeon Of Naheulbeuk
The Forgotten City
The Good Life
The Gunk
The Last Kids on Earth and the Staff of Doom
The Outer Worlds
The Pedestrian
The Procession to Calvary
The Riftbreaker
The Saboteur
The Yakuza: Remastered Collection
TheHunter: Call of the Wild
This War of Mine: Final Cut
Titanfall
Titanfall 2
Torment: Tides of Numenera
Total War: Three Kingdoms
Totally Accurate Battle Simulator
Touhou Luna Nights
Townscaper
Trailmakers
Train Sim World 2
Transformers: Campo de Batalla
Trek to Yomi
Tropico 6
Turnip Boy Commits Tax Evasion
TUNIC
Twelve Minutes
Two Point Hospital
Umurangi Generation: Special Edition
Undertale
Undungeon
Unpacking
Unravel
Unravel Two
Unisghted
Unsouled
Vampire Survivors
Visage
Warhammer 40,000: Battlesector
Wasteland Remastered
Wasteland 2: Director's Cut
Wasteland 3
We Happy Few
Weird West
Windjammers 2
What Remains of Edith Finch
Wolfenstein: The New Order
Wolfenstein: The New Colossus
Wolfenstein: The Old Blood
Wolfenstein: Youngblood
World War Z
Worms W.M.D.
Wreckfest
Yakuza 3: Remastered
Yakuza 4: Remastered
Yakuza 5: Remastered
Yakuza 6: The Song of Life
Yakuza: Like a Dragon
Young Souls
Zero Escape: The Nonary Games
Zombie Army 4: Dead War
Zoo Tycoon Ultimate Animal Collection
Juegos que llegarán en el futuro a PC Game Pass
Confirmados para 2022:
Escape Academy (4 de julio)
As Dusk Falls (19 de julio)
Immortality (26 de julio)
Two Point Campus (9 de agosto)
Grounded 1.0 (Septiembre)
Scorn (21 de octubre)
Persona 5 Royal (21 de octubre)
High on Life (Octubre)
Gunfire Reborn (Octubre)
Pentiment (22 de noviembre)
Hello Neighbor 2 (6 de diciembre)
A Plague Tale: Requiem (2022)
Replaced (2022)
Slime Rancher 2 (2022)
Somerville (2022)
Atomic Heart (2022)
Party Animals (2022)
2023 o sin fecha:
Starfield (2023)
Redfall (2023)
Forza Motorsport (Primavera de 2023)
Lightyear Frontier (Primavera de 2023)
The Last Case of Benedict Fox (Primavera de 2013)
Hollow Knight: Silksong
Minecraft Legends
Persona 3 Portable
Persona 4 Golden
S.T.A.L.K.E.R. 2
Ark 2
Ereban: Shadow Legacy
Ravenlok
Cocoon
Wo Long: Fallen Dynasty
Flintlock
Eiyuden Chronicle: Hundred Heroes
Precio de PC Game Pass y cómo funciona
La suscripción al PC Game Pass cuesta 9,99€ por mes si solo te interesa el servicio en ordenadores Windows, e incluye EA Play para PC.
También puedes suscribirte al Xbox Game Pass Ultimate, que cuesta 12,99€ al mes e incluye tanto el servicio en ordenadores Windows como el EA Play (PC y consolas), el Xbox Game Pass y la suscripción a Xbox Live Gold.
Aunque el acceso abierto a muchos juegos es similar a servicios como Netflix o PlayStation Now, el streaming no es obligatorio pero sí opcional en muchos títulos gracias a Xbox Cloud Gaming, que además te permite probar juegos de consola. Por defecto la opción es descargar los títulos al disco duro.
Como en Netflix, se añaden y retiran juegos del servicio a lo largo del tiempo. Microsoft anuncia los títulos que entran y salen cada mes en dos tandas, una a principios de mes y otra a mediados.
Si quieres acceder a un juego después de que termine tu suscripción (o si un juego se retira del servicio) podrás comprarlo con un 20% de descuento, y con un 10% en el caso de los DLC. Pero recuerda, solo mientras el juego permanezca en el servicio.
Actualmente PC Game Pass está disponible en Australia, Austria, Bélgica, Canadá, Chile, Colombia, República Checa, Dinamarca, Finlandia, Francia, Alemania, Grecia, Hong Kong, Hungría, India, Irlanda, Italia, México, Países Bajos, Nueva Zelanda, Noruega, Polonia, Portugal, Rusia, Singapur, España, Suecia, Suiza, Taiwan, Reino Unido, Estados Unidos.